Cherrydale Branch Library
Serving North Arlington since 1922
Size of Library and Cost to Taxpayers
This page was last updated on May 18, 2014.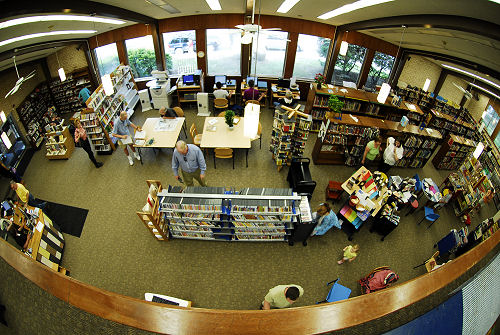 Cherrydale Library occupies 4,704 square feet (or about 5,600 square feet, if the balcony is included) and has some 30,000 books.

As of March 2009, when the County Board was considering reducing Cherrydale Library's operations from six days per week to three days per week as part of the County Government's efforts to meet a projected 3.8 percent revenue shortfall in the FY2010 Budget:

The total FY 2010 proposed budget for the Department of Libraries was $11,862,418. This represented 1.3 percent of the entire Arlington County FY 2010 proposed budget.

Cherrydale Library's projected operating cost for FY2009 (July 1, 2008-June 30, 2009, when the library was open six days per week) was $278,314. This figure factors out roughly to $1.73 per year for the average taxpayer of Arlington County. The figure represents .0294 percent of the total proposed County budget for FY2010. In other words, Cherrydale Library's cost of operating six days per week is less than three-hundredths of one percent of the total County budget.

The following statistics come from projections for FY2009 appearing on the County government's web site in March 2009: For the fiscal year ending June 30, 2009, Cherrydale Library will have consumed 4 percent of the budget allocated to all eight libraries in the county system (Central Library and the seven branch libraries), while handling 5 percent of the system's total patron visits and 5.4 percent of the system's total materials borrowed.

Guess what else! Cherrydale Library is remarkably energy efficient. Arlington County's analysis of energy consumption by each library in the system identifies Cherrydale Library as "among the very most efficient buildings in the Arlington government inventory." Also, the Arlington County Initiative To Reduce Emissions has spotlighted Cherrydale Library as "one of the County's greatest success stories." At the ceremony celebrating Cherrydale Library's 50th anniversary, the Executive Director of Arlingtonians for a Clean Environment, Elenor Hodges, read and presented a special Letter of Commendation praising additional steps the library has taken in recent years to enhance its environmental friendliness. In April 2012 the library received a cool sign, which went up in the front foyer. Click on the thumbnail image over on the right to see it.
_____________________
This site is maintained by Citizens for Cherrydale Library, a group of citizen volunteers seeking since 1998 to promote and preserve our most important neighborhood institution. Contact us at suza1@comcast.net with any questions or comments.