This page was last updated on July 15, 2011.
Cherrydale Branch Library
Serving North Arlington since 1922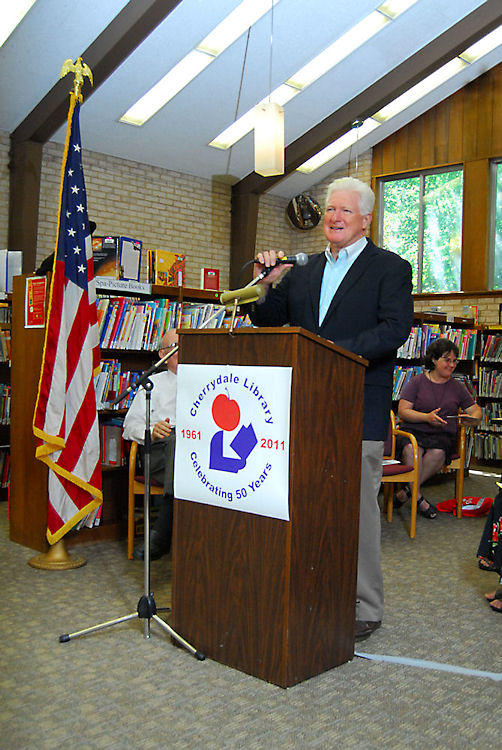 Rep. James Moran's Speech at the Celebration of the 50th Anniversary of Cherrydale Library, Saturday, July 9, 2011
I'm really honored to participate in this 50th anniversary celebration. It's a neat occasion and a reflection of how much this community cares about libraries. We have standing room only. So this is a celebration of Cherrydale, communities, libraries, and books themselves. It's . . . appropriate that the library is tucked right into the physical foundation of the community, right here in the hillside, and what wonderful architecture we're blessed with.
A 50th anniversary is really a big deal, and when you think of the history of the library just in itself, it goes back to 1922, when Cherrydale was no more than a farming hamlet on a whistle stop on the Great Falls and Old Dominion Railway. Towns have always existed, but it's because of things like this that their history forms a foundation for the future. And there's the Cherrydale Volunteer Fire Department, which has always been one of the defining characteristics of Cherrydale. It was actually involved in the development of the library, because the volunteer members and their spouses came together and donated countless hours and books and really pulled it together on their own because they understood how important a library was for a community, and then of course they petitioned the county government.
So if there is a theme to the history of this library it really is the spirit of community and the loyalty of its patrons that just transcends generations. And of course in more recent times--it's happening all over the country, right now especially. I'm so disturbed. We're talking about the loss of jobs, but a lot of them are public sector jobs that have resulted in this high unemployment rate. Just this past month the number of private sector jobs went up by about 56,000, but 38,000 public sector jobs were lost, and there are librarians who are being let off. It seems like the last thing you want to do is destroy your seed corn.
But here there was a community that responded with petitions and made sure that Cherrydale wasn't going to lose its library nor have its hours drastically reduced. [Applause.] You look at these 30,000 books, DVDs, and CDs, and all this stuff, things that I don't always know about, this new technology, although not knowing about Facebook and Twitter is sometimes an asset.
There's just something so important, it's intangible, but the idea of having a community place where you can go and sit and contemplate and read in serenity, you can't put a price on it, it's so valuable. I remember when I was growing up I had this long paper route and I'd spend hours on it. I would bicycle faster when I started coming to the end of it, because, particularly on Saturdays, I could sneak down to the library. I had chores to do, but I'd crawl in there and get some books and just read those books. . . . It was such a wonderful experience.
I think I should mention, talking about the importance of libraries, we get an opportunity to travel around to a lot of countries, particularly those in situations of chaos and instability, oftentimes to Third World countries that are desperately poor, but sometimes to countries that are very wealthy, largely because they're selling off their natural resources. But when you go outside the central city where the hotels for tourists are, you never see a library. No libraries. And I think it's because they see libraries as a source of instability, a threat to their control of their people, because when people are able to read and think and decide on their own, government then has to be responsive. This whole Arab Spring is largely because they were trying to repress the ability of people to speak for themselves. But you can't speak for youself unless you have a voice that you gain through the knowledge of reading.
I just listened to a wonderful book. I know this is not a random sample of citizenry off the street, who think Columbus landed on Plymouth Rock. This is a pretty elite group of people intellectually. I want to give you a recommendation: a famous book, The Social Animal , a wonderful book. I'm listening to it on tape. It goes into how important it is, when a child is born, to have their mind stimulated. And if they don't, if their mind starts pruning, then its development doesn't happen as fast. For the first few months and first few years of existence, the mind is almost infinite in terms of its capacity to absorb knowledge and reach conclusions . . . .
There was a small study that was done, and the results were statistically significant. It showed that, if you try to find things that break the cycle of poverty, there's one thing that has a phenomenal correlation. No matter where or in what circumstances a child is born, if there is an adult who reads to them, in a nurturing environment, normally on their lap, holding them, in the first three years of life, they break out, no matter what their obstacles--the economic and social obstacles they face. There is just something about learning in a nurturing environment that makes a profound difference in terms of that person's ability to realize their full potential. There is no better place than to come to a library, which is a traditionally nuturing environment inside, where people just treasure the value of reading and of ideas. . . . Then a child, as they grow up, they know they can walk into a library and transform themselves. They can go to different worlds, they can become different people, they can empathize with wholly different perspectives than they were exposed to in their own community and through their own peers.
So I don't think we can ever overstate the value of books in the development of our society. And the fact that Cherrydale understands that value and how priceless it is and went to Herculean lengths is just an amazing thing. The head of the citizens association, over the years, went to the County Board 50 times!? Can you believe that? Mr. Lampshire, was it? In some countries, if you're going to be that persistent, you just get shot. But here, they respond. I know this whole community stands on the shoulders of people who, generations ago, understood the value of having a permanent Cherrydale Library. They set a fine standard and you continue to do so. Thank you for being part of that tradition and making sure that our children and children-to-be have a place where they can come and fully appreciate the value of books and the state of this community. Thank you very much.
_____________________
This site is maintained by Citizens for Cherrydale Library, a group of citizen volunteers seeking since 1998 to promote and preserve our most important neighborhood institution. Contact us at suza1@comcast.net with any questions or comments.